At Granite State Gymnastics, we want to foster the development of each child in a balanced educational, creative and athletic environment based upon love, trust, respect, learning, and laughter. The activities of our preschool programs are planned to promote gross motor skills, to improve upon fine motor skills, to increase the child's language development and awareness of number concepts, and to foster independence by learning self-help skills and problem solving.
We offer the following programs: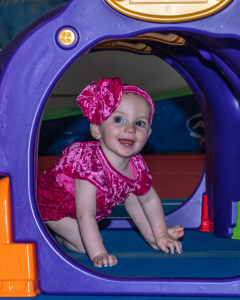 Bouncing Babies: ages crawling to 1.5
This class is for the babies to start exploring our gym. They will start climbing, focus on taking some steps, bouncing with a parent on the trampolines, instruments, bubbles and fun music! This class is made for parent and baby to play in a safe and fun environment!
Tiny Tots: ages walking to 3
Spend quality time with your child while enjoying hands on experience in gymnastics. Obstacle courses and gymnastics equipment are utilized in a fun, safe & organized environment which will challenge your child physical, mentally and socially.
Tumbling Tot: ages 3-4
Your child will enjoy learning basic progressions using skills stations and gymnastics equipment. This positive experience will help develop coordination and social interaction in a fun and safe atmosphere.
Kinder Kid: ages 4-5
This class contains advanced progressions utilizing all gymnastics equipment and obstacle courses. This positive experience will develop your child's ability to properly start & finish gymnastic skills in a fun and safe environment.
Tumble Bees Preschool & Fitness is part of Granite State Gymnastics. Granite State Gymnastics has been owned and operated by the Bogaczyk Family since 2007. We have an open-door policy and welcome parents at any time. If you have questions or concerns regarding the policies on this website, please contact a member of the management team and we will be happy to help in any way.
To Register:
Call the office at 603-935-9816 or email gsg@granitestategymnastics.com.